Uitnodiging DACE Contactbijeenkomst 9 maart 2023
31 januari 2023 om 15:26 door Communicatie DACE 1 reactie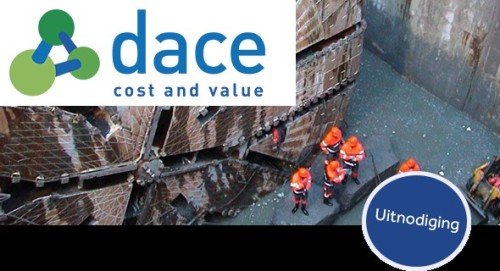 Beste deelnemer,
Met genoegen nodigen wij u uit voor de DACE contactbijeenkomst:
"Wat is de invloed van digitalisatie op het vak en de rol van de Cost Engineer?" op donderdag 9 maart a.s. in 'De Soester Duinen' (Soesterbergsestraat 188, 3768 MD Soest). Dit keer is er ook weer het GWW vooruurtje "Ontwikkelingen van 3D betonprinten"
In het laatste decennium heeft digitalisatie een steeds grotere invloed gekregen op de werkomgeving van de Cost Engineer. Daarom heeft DACE vier sprekers uitgenodigd die de impact van deze ontwikkeling vanuit verschillende oogpunten belichten. Aafje Jansen-Romijn (Cleopatra), Babette Schep (Cleopatra), Jan Willems (Fluor) en Ferry Zöllner (Shell) delen hun inzichten hierover graag met u. De presentaties zijn in het Nederlands, de slides kunnen in het Engels zijn.
Eerste presentatie: "New insights into Project Controls and Cost Engineering"
A new Global Survey, conducted by Cleopatra Enterprise, reveals exciting insights into the success factors of technical projects. Join Aafje Jansen-Romijn and Babette Schep as they share their recommendations based on the key findings of this survey and their years of experience in the field.
The key factors for delivering successful projects
What high-performing project teams have in common
Barriers and benefits of using today's tools and technology
How integrated processes and tooling can make a difference in your project's performance
Aafje Jansen-Romijn is the Managing Director of Cleopatra Enterprise. With over 30 years of experience in the field, Aafje is currently overseeing the business operations and consultancy services of the company.
As a Senior Cost Engineer, Babette Schep has led many Cleopatra Enterprise software implementation projects, including leading Needs Assessment Workshops, training the team, and assisting in initial pilot projects throughout the Industry and government.
Tweede presentatie: "Keeping the Estimate Alive"
De tweede presentatie door Jan Willems (Fluor) laat zien dat Estimating niet enkel nodig is in de proposal of beginfase van het project. Predictable Outcome vraagt constante update van forecasts, gebaseerd op de meest recente Engineering data (IFC, Current Design en zelfs Change Order MTOs) en de meest actuele prijs en resource berekeningen. Dit is niet mogelijk zonder automatisatie en automatisatie is niet mogelijk zonder integratie. Integratie is niet mogelijk zonder standaardisatie van werkprocessen en data.
Jan Willems, werkt 30 jaar bij Fluor en een dikke 37 jaar in Project Controls, van Planning tot Cost Management, Estimating en Management Reporting. Hij is Fluor Fellow in Data Integration, team lead van het Data Integration Team binnen Fluor. Gepassioneerd door data en hoe integratie en automatisatie het vervelende werk wegneemt en ons tijd geeft voor analyse en we echt waarde kunnen toevoegen aan het projectteam.
Derde presentatie: "Data Strategy in Project Controls"
Our third guest speaker, Ferry Zöllner shows that high quality and accessible data is fundamental for business sustainability and competitiveness in the capital-intensive energy industry. Better data enables better decision making. By leveraging data centric processes and applications our Project Controls capability is being enhanced.
Ferry Zöllner – Senior Digital Engineer Front-End and Project Controls at Shell. More than 17 years of experience working for Shell on the interface between the Project Control disciplines, Conceptual Engineering and Information, Data and Technology. I am an evangelist of data interoperability through adoption of a common language in the industry.
Aansluitend nodigen wij u graag uit voor een netwerkborrel.
GWW vooruurtje "Ontwikkelingen van 3D betonprinten" door Erik Schulte Fischedick, Cost Engineer en Teammanager bij Witteveen+Bos
De afgelopen jaren hebben de ontwikkelingen op het gebied van 3D printen in de civiele techniek en woningbouw niet stil gestaan. Na de presentatie uit 2019 nemen wij jullie opnieuw mee langs diverse aspecten van het 3D betonprinten. Wat zijn nu de technische mogelijkheden? Zijn de kosten – zoals alles in de wereld – gestegen of misschien wel gedaald sindsdien?
Programma 13:45-17:00 uur
13:45: GWW vooruurtje: Ontwikkelingen van 3D betonprinten
15:00: Opening DACE voorzitter Robert de Vries
15:15: Presentatie "New Insights into Project Controls and Cost Engineering" door Aafje Jansen-Romijn en Babette Schep, CEC
15:45: Presentatie "Keeping the Estimate Alive" door Jan Willems, Fluor
16:15: Korte break
16.20: Presentatie "Data Strategy in Project Controls" door Ferry Zöllner, Shell
16:50: Paneldiscussie
17:05: Sluiting en netwerkborrel
U kunt zich door middel van een e-mail nu al opgeven voor deze activiteit. Dat helpt ons om de bijeenkomst te organiseren.
We zien er naar uit om u te mogen begroeten bij de DACE contactbijeenkomst.
Deel dit bericht
Reacties
Ik ben er graag bij!
Plaats een reactie