Invitation DACE contact meeting November 30th: "Views on Project Controls"
30 oktober 2023 om 12:44 door Communicatie DACE 0 reacties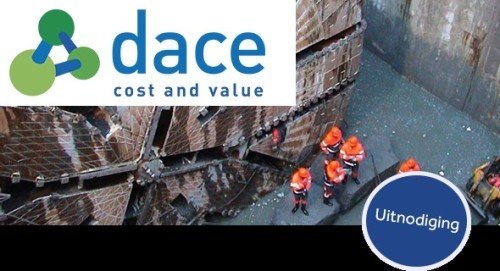 "Views on Project Controls"


Dear Member,

We would like to invite you and your interested (English speaking) colleague to the special Contact Meeting on 'Views on Project Controls' organized by DACE on November 30th. It is not only special because of the three excellent speakers from various fields and experiences in the chain, but also for the first time our contact meeting will be held in English.

Our guest speakers are Eric Kreft, Lars van Kuijk and Prof. Dr. Hans Bakker. Eric Kreft (EBN JV Rep Porthos) is responsible as Project manager for the Porthos-Project. Porthos will capture carbon dioxide (CO2) from industrial plants in Rotterdam and transport it to a depleted gas field under the North Sea. Lars van Kuijk (Contractor Stork) started recently as Cost Engineer at the Chemelot site in Geleen and will share his fresh insights in Project Controls. Prof. Dr. Hans Bakker (TU Delft) will share with you the achievements and key learnings on management of projects that were realized during his 16 years as NAP-professor at the Delft University of Technology.

Because the language at the meeting is English, this a great opportunity for you to introduce your English speaking colleagues to the DACE network.

We are looking forward to meet you at the Soester Duinen on November 30st for an interesting and interactive contact meeting.

First presentation: "The Complexity of the Porthos project"
The first presentation will be given by Eric Kreft.

Porthos is developing a project in which CO2 from industry in the port of Rotterdam is transported and stored in empty gas fields under the North Sea. Porthos stands for Port of Rotterdam CO2 Transport Hub and Offshore Storage. Eric Kreft will zoom in on the challenges that were faced so far, the complexity of the Porthos project and what the project means for reaching the climate goals in the Netherlands.

Eric Kreft works as a Project Lead for Energie Beheer Nederland (EBN), a state owned company that's active in the energy transition. Eric has a passion for CCS and is for almost twenty years involved in this theme.

Second presentation: "Starting in Project Controls"
The second presentation will be given by Lars van Kuijk.

Lars will take you along his process of changing from a pure financial into a project controller. About never having seen any technical drawings, into having to understand these and structure their data. About balancing between interpreting numbers and asking the right questions. And also, about what he thinks can be improved within the Industry and its projects and what we are specifically working on at Stork.

After graduation of my master in Finance, I started at Stork as a finance trainee, about 4 years ago. After three mostly financial assignments, I started in Project Controls just over 2,5 years ago. Ever since, I have been involved in multiple construction projects and trying to implement new ideas to improve our results.

Third presentation: "Key Learnings on Management of Projects at the Delft University of Technology" The third presentation will be given by Prof. Hans Bakker.

When I started in the field of project management at Shell, as head of Project Controls, project controls were not really seen as an integral part of project management. Project Support was a better name for the department and we were made responsible for the development and maintenance of project standards, guides, templates and the lot. As Project Support we also developed the Project Academy and we were able to upgrade the project management of Shell to the top 20% of the industry based on International Benchmarking.

Building on this foundation, I will share with you the achievements and key learnings that we realised during my 16 years as NAP-professor at the Delft University of Technology in the fields of education and research on management of projects.

Hans Bakker obtained a PhD in Physics. Worked almost 30 years for Royal Dutch Shell, started in research and via numerous positions ended as Vice-President Contracting and Procurement for Projects. He holds the chair "Management of Engineering Projects" at TU Delft for more than 15 years.

Join us after the presentations for a closing drink and opportunity to expand and connect with the members of our NAP network.

Program 15:00-17:00 uur

15:00: Opening, DACE Chairman Robert de Vries
15:15: Presentation by Eric Kreft
15:45: Presentation by Lars van Kuijk
16:15: Presentation by Prof. Hans Bakker
16:45: Closing Questions
17:00: End of the eving and drinks, network opportunity

You may register by sending an e-mail in advance, this will assist us to organizing the meeting.

Location:

De Soester Duinen

Soesterbergsestraat 188
3768 MD Soest

Route link: <<<Clink here>>>

We are look forward greeting you at the DACE contact meeting.


Deel dit bericht
Reacties
Plaats een reactie